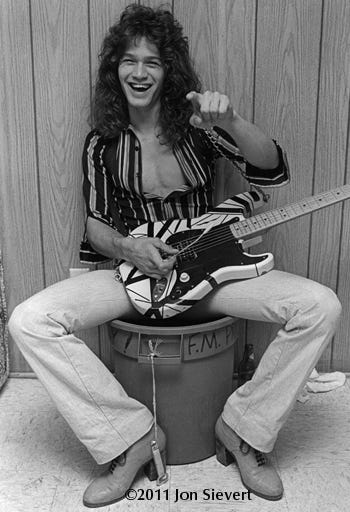 Jul 11, 2022 • 1HR 13M
Eddie Van Halen: The Complete 1979 Interview (Audio)
EVH Riffs on Instruments, Influences, and Other Issues Close to His Heart
Uncut interviews with legendary blues, rock, and pop musicians.
To outsiders, Eddie Van Halen seemed to be sitting on top of the world during the final days of the 1970s. The first two Van Halen albums had gone platinum, the band had just wrapped up a world tour, and Eddie had been widely proclaimed one of rock's best guitarists. Behind the scenes, though, he was rapidly discovering that fame had its price. He was irritated with manufacturers who'd cloned his trademark guitar, with big-name players copping his techniques, and with journalists misrepresenting his words.
One week after Van Halen finished recording Women and Children First, Eddie called to see how I was doing. When I mentioned I was working on a Guitar Player magazine article on do-it-yourself guitar kits, he volunteered to give me his insights into building guitars. Naturally, I accepted – after all, Eddie was largely responsible for the trend's popularity.
Two days later, on December 29, 1979, Eddie called again. He began by talking about the tools of his trade – his amps, pedalboard, how he builds instruments, hand rewinds pickups and dips them in wax, sets his intonation, tweaks his whammy bar, and so on. He also vented his frustrations at the first VH clone guitars hitting the market and with other guitarists copping his style or snubbing him on the road. Later on in the hour-long interview, the subject turned to Women and Children First. As you'll hear, it was so soon after the recording sessions that Eddie wasn't sure what some of the finished songs would be titled on the album.
Until now, this audio has never been heard by anyone other than Eddie and me. He's insightful and remarkably candid throughout. I hope you enjoy it!
Talking Guitar ★ Jas Obrecht's Music Magazine is a reader-supported publication. To receive new posts and support my work, consider becoming a free or paid subscriber.
My thanks goes out to Steve Weiss, Shaw Lentz,  and the rest of the staff of the University of North Carolina's Southern Folklife Collection, as well as the staff of the Andrew W. Mellon Foundation. And a special shout-out goes to Nik Hunt for co-producing this podcast and providing its theme music.
© 2022 Jas Obrecht. All rights reserved.