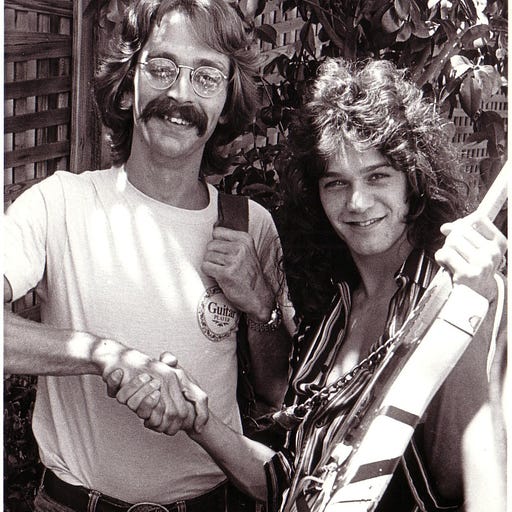 Sep 14, 2022 • 31M
Eddie Van Halen: "My First Interview" (Audio)
The Complete July 1978 "Guitar Player" Interview
Uncut interviews with legendary blues, rock, and pop musicians.
With the release of 1978's Van Halen album, Eddie Van Halen sent a shockwave through the guitar community. His sheer speed, unusual note choices, inspired finger tapping, whammy work, and fiery tone inspired guitarists everywhere. His impact was especially felt among up-and-coming guitarists in name bands, who saw their dreams of becoming "the next Jimi Hendrix" blown away in the 1:42 it took to listen to "Eruption." Within months, it was virtually impossible to go into a music store or listen to a garage band without hearing rough approximations of Eddie's groundbreaking techniques. While the band's rise seemed meteoric, the musicians had, in fact, spent years perfecting their act.
On July 23, 1978, Van Halen and AC/DC opened the show for Pat Travers, Foreigner, and Aerosmith at Bill Graham's Day on the Green concert at the Oakland Coliseum. Van Halen was midway through their first world tour, and this was their first northern California appearance. The band delivered a spectacular set, performing most of their debut album and previewing "Bottoms Up" and "D.O.A.," which would come out on Van Halen II. Despite it being early in the day, singer Dave Lee Roth pulled out all the stops. Bassist Michael Anthony and drummer Alex Van Halen each took a solo turn, and then at the set's climax Eddie Van Halen played "Eruption." My introduction to Eddie came quite unexpectedly shortly after the band left the stage.
The new assistant editor for Guitar Player magazine, I had been sent to the event to interview Pat Travers. When I dutifully showed up at his backstage area, tape recorder and list of carefully prepared questions in hand, Travers looked up from his female fans and mirror just long enough to send me away with a petulant wave. I was not happy. To blow off steam, I began shooting baskets at a small court Bill Graham had set up backstage for musicians and crew to use during down times. A lean, wiry young guy about my age came over and said, "Hey, man, can I shoot with you?" After a spirited game of one-on-one, we sat in the shade at the court's edge. "Hey, man, what band are you in?" he asked.
"I'm not in a band."
"What are ya doin' here?"
"I work for Guitar Player magazine. I came here to interview Pat Travers, but Travers blew me off."
"Pat Travers blew you off? I can't fuckin' believe it! Why don't you interview me? Nobody ever wants to interview me."
"Who are you?"
"My name is Edward Van Halen."
Whoa! I happily switched on my cassette recorder and winged it with the questions. Here, for the first time ever, is the complete audio of the courtside conversation Eddie would later refer to as "my first interview."
(Here's an audio trailer for unpaid subscribers: Eddie Van Halen: "My First Interview" (audio trailer)
At the interview's conclusion, Eddie invited me to try out his homemade Strat-style guitar. Guitar Player staff photographer Jon Sievert, who'd shot Van Halen's set, walked over to the equipment trailer with us. After he showed me his instruments, Eddie asked Jon to take the photo of the two of us simultaneously playing what was to become one of rock's most iconic guitars. Up close, it definitely looked homemade. Eddie had assembled it himself using a pre-made Charvel neck and body. He'd spray-painted it with white bicycle paint and used electrician's tape to create the black stripes. One detail that stood out was that he'd filed extra-wide slots in the nut to prevent strings from catching while he used his whammy bar.
When the feature story based on our courtside conversation came out in the November 1978 issue, Eddie called me at Guitar Player's office to express his thanks. After that, he'd occasionally call me from the road, just to "shoot the shit," as he liked to call it. We'd mostly talk about his guitars, music, bandmates, and other musicians, but sometimes the conversations would veer into the personal. Beneath the veneer, he was extraordinarily sensitive. In 1979, we did our second formal interview, this time focusing on how he made or modified his guitars. You can hear it here: Eddie Van Halen: Our 1979 "How I Build Guitars" Interview.
.
Stay tuned for the world premiere podcasts of other EVH interviews.  
Thanks to my podcast producer Nik Hunt, Steve Weiss and the staff at UNC's Southern Folklife Collection, and to you, subscribers, for supporting my articles and interviews.
###
© 2022 Jas Obrecht. All right reserved.