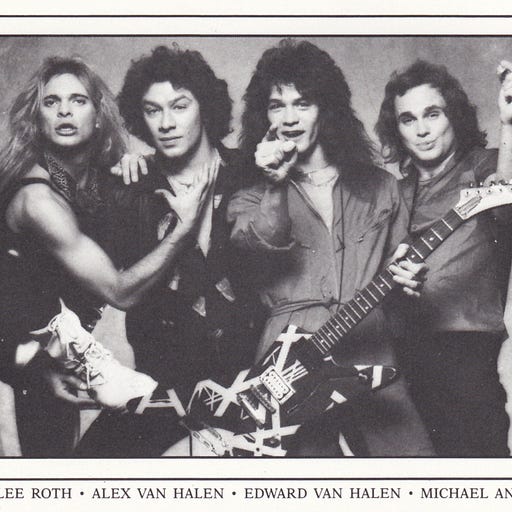 Nov 3, 2022 • 33M
Michael Anthony: The Complete 1981 Van Halen Interview (Audio)
A Wide-Ranging Exploration of the Bassist's Role in Van Halen
Uncut interviews with legendary blues, rock, and pop musicians.
In 1974 bassist Michael Anthony joined the Van Halen brothers in the band that bears their family name. By the time of our interview seven years later, he was regularly delighting concert goers with an extended bass solo that climaxed with his jumping on his bass. Most of the time, though, he played a supporting role. As Eddie said at the time of our interview, "Mike Anthony is a damned good bass player. When my brother Al and Mike are playing, it's an open world for me. I can do whatever I want. They're right there backing me up, feeding me." Michael's harmony vocals were also essential to the classic Van Halen sound.
Shortly after recording Fair Warning, Michael agreed to do a wide-ranging interview on his role in the band. We discussed his musical upbringing, instruments, the evolution of his extended onstage solo, and the limitations of playing hard rock. He explained how Van Halen arranges songs in the basement of the home of David Lee Roth's dad and the role producer Ted Templeman played in this process. Michael also covered his favorite recordings with Van Halen and the benefits and pitfalls of success. We wrapped up the conversation with his advice for young players. An edited print version of this appeared in the October 1981 Guitar Player as "Michael Anthony: Q/A." Here, for the first time ever, is the complete audio of our July 22, 1981, interview.
Talking Guitar is a reader-supported publication. To receive new posts and support this work, become a free or paid subscriber.
In all, Michael played bass on Van Halen's first 11 albums. In 2006 he was permanently replaced by Eddie's son Wolfgang. After that, he worked with former Van Halen vocalist Sammy Hagar in Chickenfoot, featuring Joe Satriani on guitar. He currently plays with Sammy Hagar and the Circle. You can follow his exploits and explore his merchandise by visiting his official website: Mad Anthony Café.
For more Van Halen, check out these Talking Guitar podcasts with Eddie Van Halen:
Eddie Van Halen: "My First Interview"
Eddie Van Halen: The Complete 1979 Interview
Eddie Van Halen: 1982 Interview, Part 1
Eddie Van Halen: 1982 Interview, Part 2
Thanks to Michael Anthony, podcast producer Nik Hunt, the staff of the Southern Folklife Collection, and the Talking Guitar paid subscribers, for making this podcast possible.
©2022 Jas Obrecht. All right reserved.